Sale!
Description
LPWan NB-IoT Module WNB303R is a series of NB-IoT module which is designed to communicate with mobile network operators' infrastructure equipment through the NB-IoT radio protocol

Features:
NB-IoT Support
B1, B3, B5, B8, B20, B28  (Frequency table) 
AT Commands
Extended Temperature
Range: -40°C to +85°C
Ultra-Low Power
Consumption
Description:
Advanced Solutions WNB301H is high performance NB-IoT module with extremely low power consumption for long battery life up to 10 years. The ultra-low power design is applied at system level, in the different 3GPP modes of operation. WNB301H supports various interfaces such as UART, I2C, SPI* and so on. The module provides customer high flexibility for different kind of applications. Due to the compact form factor, ultra-low power consumption and good performance, WNB301H is the best choice to be embedded to the design or solution for SmartX applications, ex. smart cities, smart metering and grid, security and asset tracking, environmental monitoring and control, health care monitoring, etc.
Document:
PDF download
General Description:
WNB303R is an SMD type module with LCC package, with an ultra-compact profile of 18.0mm × 16.0.0mm × 2.35mm, which can be easily embedded into applications. It provides hardware interfaces such as ADC, GPIO, and UART interfaces, and can meet almost all the requirements for IoT applications, such as smart metering, bike sharing, smart parking, smart city, security and asset tracking, home appliances, agricultural and environmental monitoring, etc.
Designed with power saving technique, the WNB303R consumes an ultra-low current of Typ. 3.3uA in PSM (Power Saving Mode). The module fully complies with the RoHS directive of the European Union.
WNB303R provides protocol stacks (UDP/TCP, CoAP, NIDD, Http(s)…etc.) and also supports LWM2M/MQTT cloud platform as below, which provide great convenience for customers' applications.
  OceanConnect
  Tianyi platform
  OneNET
  The other international cloud platforms which support MQTT/OMA LWM2M protocol (Please contact with LITE-ON for details)
● Supply voltage: 3.3V ~ 5.0V ● Typical supply voltage: 3.8V

● Typical power consumption in PSM: 3.3uA

●Low band: , B5, B8, B12*, B13*, B17*, B18*, B19*, B20, B26*, B28
●Mid band: B1, B2*, B3, B4*, B25*, B66*

● Operation temperature range: -30°C ~ +75°C*1 ● Extended temperature range: -40°C ~ +85°C*2

● Support (U)SIM card with 1.8V / 3.0V operation

UART0 port:

●  Used for debugging log
●  Used for firmware upgradeUART1 port:

● Used for AT command communication and data

transmission .

UART2 port:
● Used for debugging log

Supported Internet Protocol

● Support TCP/UDP (IPv4 & v6), NIDD, LWM2M, CoAP, MQTT, HTTP(S), TLS, DTLS, NTP

● Text and PDU mode
● Point-to-Point MO and MT

Data Transmission Feature

● Single tone with 15kHz subcarrier: 25.5kbps (DL) ,16.7kbps (UL)
● Multi tone with 15kHz subcarrier: 25.5kbps (DL) ,62.5kbps (UL)

● Compliant with 3GPP Rel.13

● Size: 18.0mm x 16.0mm x2.35mm ● Weight: 1.3g ±0.1g
Firmware upgrade via UART port, FOTA

Connected to antenna with 50 Ohm impedance control line

● All hardware components are fully compliant with EU RoHS directive
● Halogen Free
● Pb Free
1) Within operation temperature range, the module is 3GPP compliant.
2) Within extended temperature range, the module remains the ability to establish and maintain an SMS, data transmission, etc. There is no unrecoverable malfunction. There are also no side effects on radio spectrum and no harm to radio network. Only one or more parameters like Pout(Output power) might be reduced and exceed the specified tolerances. When the temperature returns to the normal operating temperature levels, the module will meet 3GPP specifications again
Interface
 Package
Low profile and Compact Form Factor: 23.0 x 15.0 x 2.2 mm     Weight: 1.45g
42 Pin Stamp Pad of LCC package
Pin Assignment: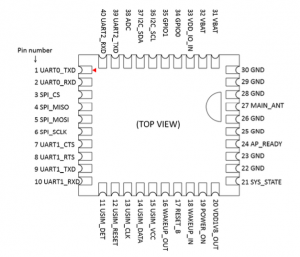 I/O Parameters Definition
| | |
| --- | --- |
| | |
| | Bidirectional Input / Output |
| | |
| | |
| | |
| | |
| | |
| | |
| | |
Power supply, Voltage range: 3.3~5.0V Typ.: 3.8V

For lower supply voltage as 2.1~3.63V, please contact LITE- ON for WNB302R NB- IoT module.

Supply voltage for external circuit. VDD1V8_OUT = default 1.8V
Io MAX.=TBD

Only used for level match ,left unconnected when not used.. The VDD1V8_OUT would be off as working at PSM mode

3.3V power domain with Internally pulled up. Active low. Please refer to Figure 5 and 6 for design details.

3.3V power domain with Internally pulled up. Active low. Please refer to Figure 7 and 8 for design details.

LED control output as network status indication. There are 4 status:

1.8V power domain If unused, keep this pin open.
Mechanical Information
The following figure shows the package outline drawing of WNB301H.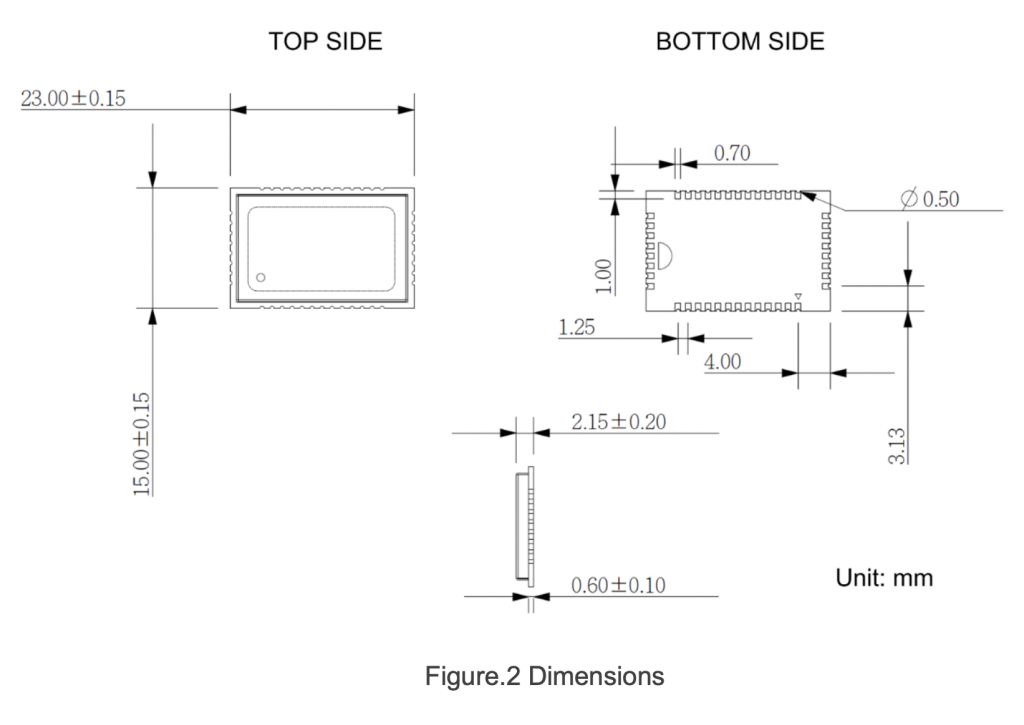 Recommended Land-pattern
The following figure shows the recommended land-pattern ofWNB303R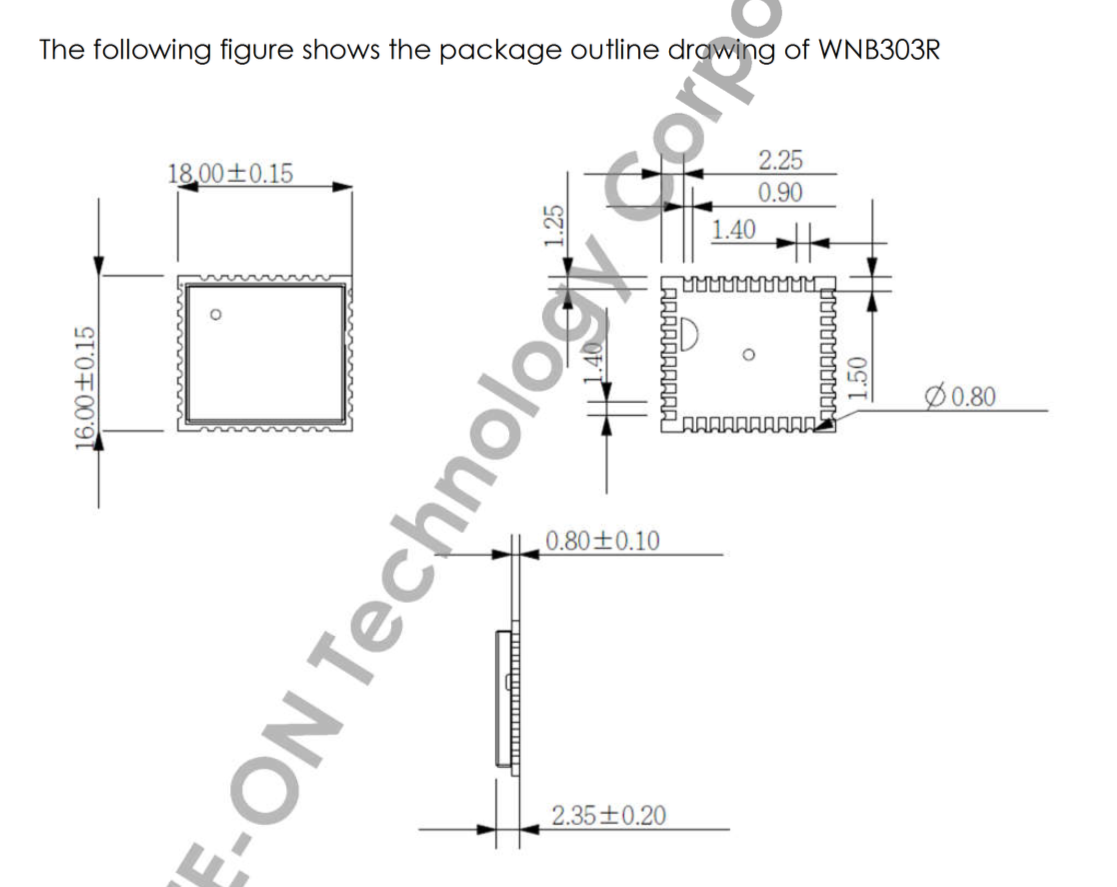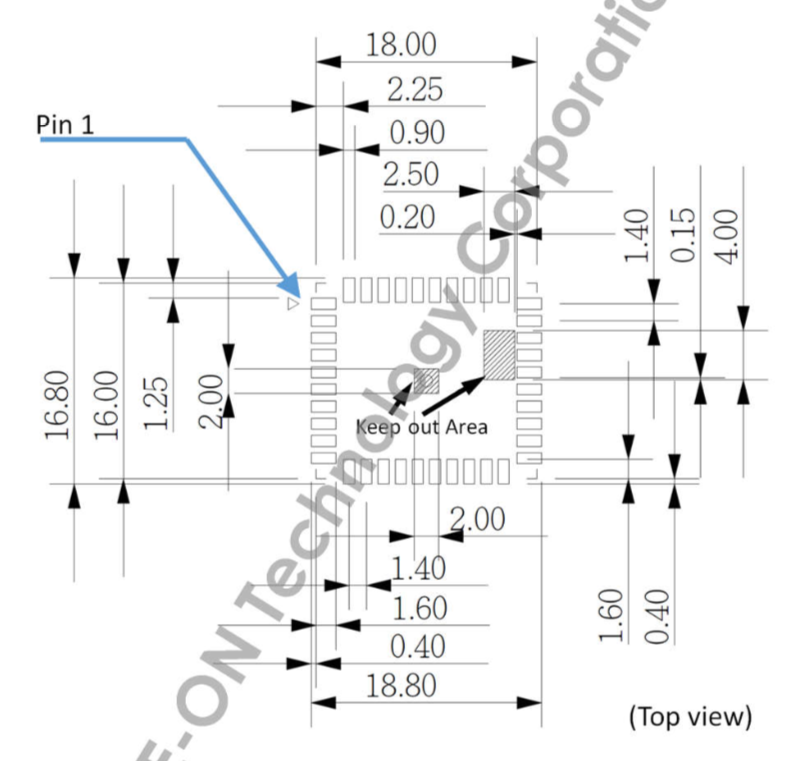 The iForglab has official to alliance with Taiwan telecom service  and kick off this NBIOT business in 2019.
The iForglab has supported Dashboard that connection with NBIoT telecom system.