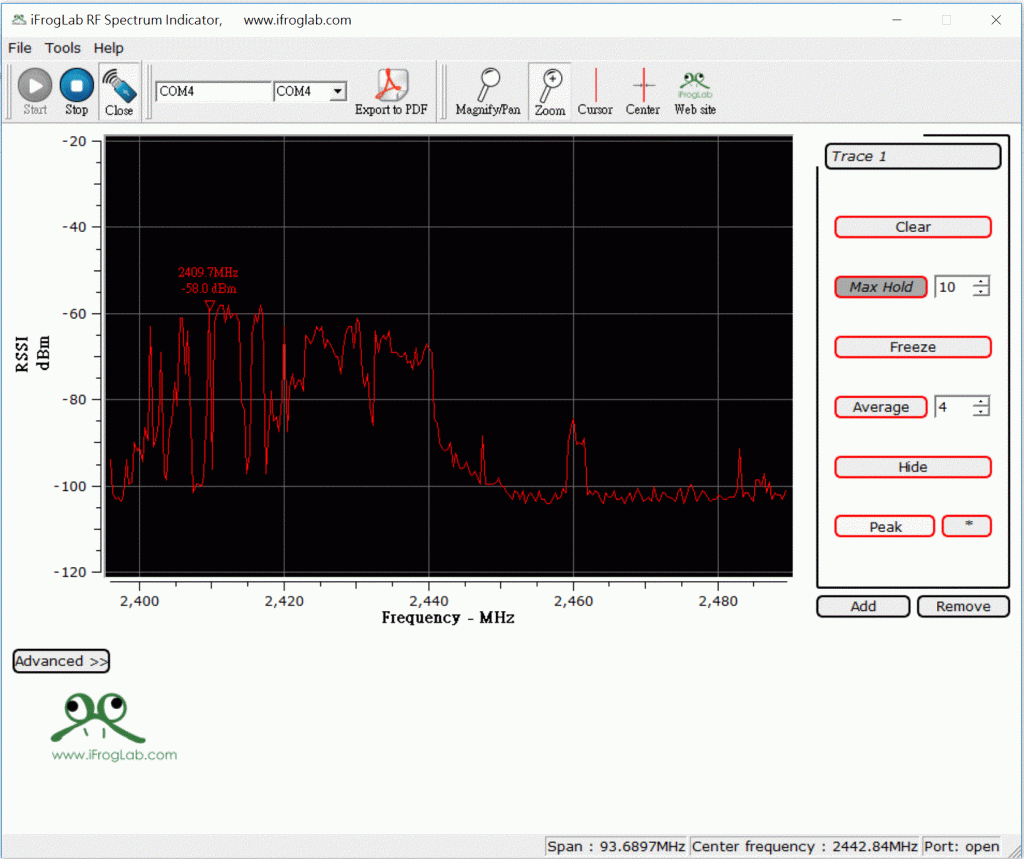 iFrogLab 2.4G Spectrum Analyzer USB dongle,  USB portable spectrum analyzer,
why do you need to spend US$1500 to buy the spectrum analyzer equipment.
Description:
2.4GHz band portable spectrum analyzer.
the size of a USB disk hardware box.
plug and play,  easy connected to a PC and working.
covering the common 2.4GHz band,
detection bandwidth up to 80MHz;
Product Features:
80MHz bandwidth covering ISM band (2.4GHz ~ 2.48GHz),
RF interface SMA interface, maximum input power of 0dBm,
CENTER, SPAN can be adjusted independently
Support slide Marker, amplitude-frequency maximum, minimum display
Spectrum grid blanking support, dynamic amplitude.
Spectrum screen pause / resume;
Support (single and continuous) triggering
Application areas:
Basic RF 2.4G band for debugging and testing (PA-power, nonlinear test);
Conformance testing wireless products;
Environmental wireless signal interference distribution;
Performance testing of the wireless signal coverage
Wireless product development aided testing;
Software:
click here to download windows software.
Available now:
iFrogLab 2.4G Spectrum Analyzer USB dongle available online store here
You will get:
1) 1 pcs 2.4GHz band portable spectrum analyzer
2) 1 pcs 2.4GHz antenna
Packaging Details
Weight:0.200kg (0.44lb.)
Dongle Dimension: 70mm x 27mm x 12mm
Product Videos:
Tutorial English version.
download and install software
software tutorial
A Blog News from famous website.
Tutorial Chinese version.
Product images:
How to setup this 2.4G Spectrum Analyzer USB dongle  
1.When you unboxing  that will see this component as below.
2.4G Spectrum Analyzer dongle *1
2.4G Antenna *1
2. please combination dongle and Antenna as like below picture.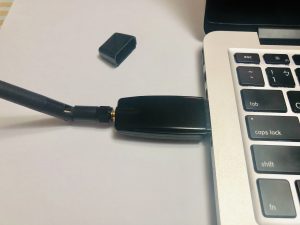 And please plug in your USB slot
3.Download our Software and installation
click here to download windows software.
please start to install such program
please allow this change for our program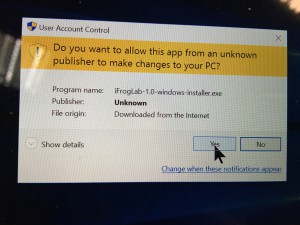 4.Check Device Manger has recognize such dongle on Port(COM&LPT)
e.g USB serial device(COM3)
5.Start iFroglab RF Spectrum indicator Program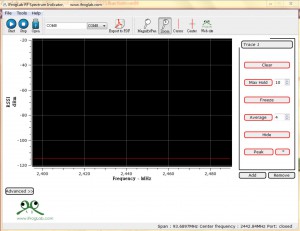 6.first we need setup COM Port for S/W recognize
please check your Device Manger and Ports(COM&LPT); For example COM16
7.Please enable and click this Open button that will appear Close
8.please Calibrate 2.4G dongle and following this step.
please click tool->Calibrate->Calibrate
Waiting and receive this response from 2.4G dongle that will appear in the bottom left corner as below Picture
it will appear  "ACK calibrated received"  HI! Congratulations  you have successfully to setting and completed our Dongle.
9.you can start to tracking any 2.4G signal after enable "Start button"
<END of User guide>

software Download and install